SURF BEGINNER 1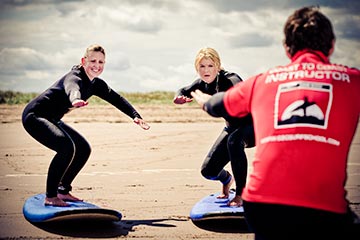 Dauer: 120 Minuten (ca.)
Ort: Dunbar, East Lothian
Produkt-Code: SL1
Our introductory surf lessons in the white water are a great first step in the art of surf riding and include a friendly Coast to Coast qualified surf instructor and top of the range surf equipment plus everything you need to know to have fun in the surf safely! Lessons cover skills such as safety in the sea, equipment terminology, paddling, catching waves and standing.
Lessons are open to complete beginners of all ages from 7yrs upwards and all participants must be able to swim a minimum of 50m unaided.

Please note due to high demand we are keen to get everyone back in the water whatever the conditions, so please decide on a back up Coast to Coast sport in advance, as if its flat on your primary booking date we will provide beginner zero surfing, coasteering or stand up paddling as a back up. Please also check the forecast in advance before booking in!

How to put on a wetsuit and carry a board?
Please look out for a future emails with short videos to show useful tips on getting our wetsuits on efficiently and carrying equipment.
Coast to Coast New Health and Safety Procedures
You can check out the latest information on our new safety procedures on https://www.c2csurfschool.com/covid19/ . Government advice is changing weekly, so we hope to be able to reduce safety measures over time.